Dec
21
Mon
Tortugas Mountain Observatory Open House (virtual)
Dec 21 @ 4:30 pm – 6:00 pm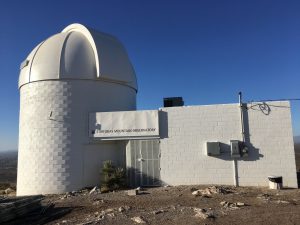 The NMSU Department of Astronomy will host a virtual online open house from the Tortugas (A) Mountain Observatory Monday, Dec. 21. This will coincide with a rare conjunction of Jupiter and Saturn, an event when the two planets will be as close together in the sky as they have been for hundreds of years. The virtual event will be held via Zoom videoconferencing and will include a short virtual tour of the recently refurbished Tortugas Mountain Observatory, followed by some remote imaging of Jupiter and Saturn, weather permitting, as well as a short presentation about connection with research on these gas giant planets.
The online event will start at 4:30 p.m. and last until around 6 p.m. Participants will need to download Zoom before joining.
Zoom link: https://nmsu.zoom.us/j/94370800438
However, a password will be required to join the meeting. To receive the password, email  astro@astronomy.nmsu.edu and we will send you the password before the event. For more information, contact Jon Holtzman at 575-646-4438.
Subscribe to filtered calendar