Mar
29
Thu
Colloquium (Joint with Physics): Jim Fuller (Host: Ethan Dederick)
Mar 29 @ 4:00 pm – 5:00 pm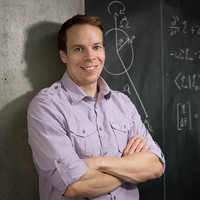 Surprising Impacts of Gravity Waves
Jim Fuller, Caltech
Gravity waves are low frequency fluid oscillations restored by buoyancy forces in planetary and stellar interiors. Despite their ubiquity, the importance of gravity waves in evolutionary processes and asteroseismology has only recently been appreciated. For instance, Kepler asteroseismic data has revealed gravity modes in thousands of red giant stars, providing unprecedented measurements of core structure and rotation. I will show how gravity modes (or lack thereof) can also reveal strong magnetic fields in the cores of red giants, and I will demonstrate that strong fields appear to be common within "retired" A stars but are absent in their lower-mass counterparts. In the late phase evolution of massive stars approaching core-collapse, vigorous convection excites gravity waves that can redistribute huge amounts of energy within the star. I will present preliminary models of this process, showing how wave energy redistribution can drive outbursts and enhanced mass loss in the final years of massive star evolution, with important consequences for the appearance of subsequent supernovae.
May
29
Fri
Remote Colloquium Thesis Defense: Drew Chojnowski
May 29 @ 2:30 pm – 3:30 pm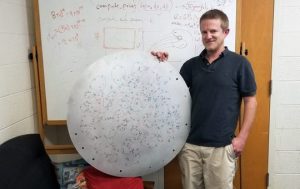 H-Band Spectroscopy of Exotic, Massive Stars
Drew Chojnowski, NMSU
We report on spectroscopy of exotic B-type emission line (Be) stars and chemically peculiar (CP) stars in the near-infrared (NIR) H-band, using data provided by the Apache Point Observatory Galactic Evolution Experiment, one of the sub-surveys of the Sloan Digital Sky Survey (SDSS). Between 2011-2020, SDSS/APOGEE has observed more than a million stars in the Milky Way Galaxy (MW), with roughly 10% of the targets being hot, blue stars that serve as telluric absorption standard stars (TSS). The TSS are selected mostly on the basis of having blue raw J-K color indices with no preference for any particular spectral type that might be known from optical spectroscopy. This targeting strategy has led to the TSS being a mixed bag, with those observed in the MW Halo typically being F-type stars that are only slightly more massive than the Sun, and with those observed in the MW Disk and Bulge being OBA-type stars of a few up to 20 times the mass of the Sun. While the vast majority of the TSS are superficially normal main sequence stars, the inclusion of large numbers of Be and CP stars has serendipitously resulted in the largest ever homogeneous spectroscopic surveys of these stellar classes, both of which present observational anomalies that remain very poorly understand despite more than a hundred years of research. Prior to SDSS/APOGEE, the H-band spectra of Be and CP stars had only been discussed in a handful of studies, all of which used small numbers of spectra of considerably lower resolution than the R=22,500 of the APOGEE instruments. The material presented in this thesis therefore represents the first ever detailed studies of Be and CP stars in the H-band, while also greatly expanding the known samples through discovery of many hundreds of new examples.
Subscribe to filtered calendar