Sep
21
Fri
Colloquium: Dave Thilker (Host: Rene Walterbos)
Sep 21 @ 3:15 pm – 4:15 pm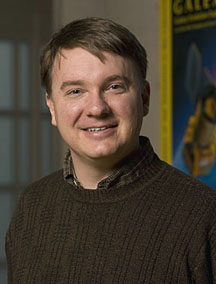 Fresh Perspectives on Star Formation from LEGUS, the Legacy ExtraGalactic Ultraviolet Survey
David 
Thilker

, Johns Hopkins University

The Legacy ExtraGalactic Ultraviolet Survey (LEGUS) was a Cycle 21 Large Treasury HST program which obtained ~parsec resolution NUV- to I-band WFC3 imaging for 50 nearby, representative star-forming Local Volume galaxies, with a primary goal of linking the scales of star formation from the limit of individual stars, to clusters and associations, eventually up through the hierarchy to giant star forming complexes and galaxy-scale morphological features.

I will review the basics of the survey, public data products and science team results pertaining to clusters and the field star hierarchy.  I will then describe work to optimize photometric selection methods for massive main sequence O star candidates and LBV candidates, in the former case establishing a means to statistically constrain the fraction of O stars in very isolated locales.  I will introduce new ideas on how to quantify the complex spatio-temporal nature of hierarchical star formation using multi-scale clustering methods. The first steps of this work have yielded a landmark OB association database for 36 LEGUS target fields (in 28 of the nearest available galaxies), with tracer stellar populations selected and interpreted uniformly.  I will finish with discussion of a pilot HST program to demonstrate remarkably increased survey efficiency of WFC3 UV imaging enabled by use of extra-wide (X) filter bandpasses.  Such efficiency is required as we move beyond LEGUS and begin to rigorously explore low surface brightness star-forming environments where canonical results for the IMF and cluster formation efficiency are increasingly called into question.
Feb
20
Wed
Special Colloquium: Stella Kafka (Host: Karen Kinemuchi)
Feb 20 @ 3:15 pm – 4:15 pm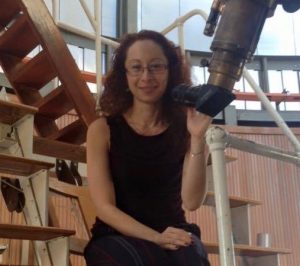 The AAVSO Program: A Resource for Variable Star Research
Stella Kafka, AAVSO
The AAVSO was formed in 1911 as a group of US-based amateur observers obtaining data in support of professional astronomy projects. Now, it has evolved into an International Organization with members and observers from both the professional and non-professional astronomical community, contributing photometry to a public photometric database of about 25,000 variable objects, and using it for research projects. As such, the AAVSO's main claim to fame is that it successfully engages backyard Astronomers, educators, students and professional astronomers in astronomical research. I will present the main aspects of the association and how it has evolved with time to become a premium resource for variable star researchers. I will also discuss the various means that the AAVSO is using to support cutting-edge variable star science, and how it engages its members in projects building a stronger international astronomical community.
Dr. Stella Kafka, is the Director of the AAVSO (American Association of Variable Star Observers). Before her tenure at the AAVSO, Dr Kafka held positions at CTIO, Spitzer Science center/Caltech, Carnegie Institution of Washington/DTM and AIP Publishing. The AAVSO is an international non-profit organization of variable star observers whose mission is to enable anyone, anywhere, to participate in scientific discovery through variable star astronomy.
Sep
6
Fri
Colloquium: Brian Svoboda (Host: Moire Prescott)
Sep 6 @ 3:15 pm – 4:15 pm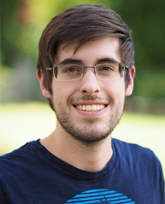 Starless clumps and the earliest phases of high-mass star formation in the Milky Way
Brian Svoboda, NRAO Jansky Fellow
High-mass stars are key to regulating the interstellar medium, star formation activity, and overall evolution of galaxies, but their formation remains an open problem in astrophysics. In order to understand the physical conditions during the earliest phases of high-mass star formation, I will present observational studies we have carried out on dense starless clump candidates (SCCs) that show no signatures of star formation activity. We identify 2223 SCCs from the 1.1 mm Bolocam Galactic Plane Survey, systematically analyse their physical properties, and show that the starless phase is not represented by a single timescale, but evolves more rapidly with increasing clump mass. To investigate the sub-structure in SCCs at high spatial resolution, we investigate the 12 most high-mass SCCs within 5 kpc using ALMA. We find previously undetected low-luminosity protostars in 11 out of 12 SCCs, fragmentation equal to the thermal Jeans length of the clump, and no starless cores exceeding 30 solar masses. While uncertainties remain concerning the star formation efficiency in this sample, these observational facts are consistent with models where high-mass stars form from initially low- to intermediate-mass protostars that accrete most of their mass from the surrounding clump. I will also present on-going research studying gas inflow signatures with GBT/Argus and ALMA, and the dense core mass function with the JVLA.
(note:slide overlay error)

Subscribe to filtered calendar