Jun
27
Tue
Colloquium PhD Defense: Laura Mayorga
Jun 27 @ 2:30 pm – 3:30 pm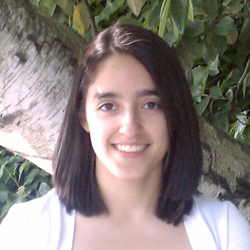 The Orbital and Planetary Phase Variations of Jupiter-Sized Planets: Characterizing Present and Future Giants
Laura Mayorga, NMSU
It is commonly said that exoplanet science is 100 years behind planetary science. While we may be able to travel to an exoplanet in the future, inferring the properties of exoplanets currently relies on extracting as much information as possible from a limited dataset. In order to further our ability to characterize, classify, and understand exoplanets as both a population and as individuals, this thesis makes use of multiple types of observations and simulations.
Firstly, direct-imaging is a technique long used in planetary science and is only now becoming feasible for exoplanet characterization. We present our results from analyzing Jupiter's phase curve with Cassini/ISS to instruct the community in the complexity of exoplanet atmospheres and the need for further model development. The planet yields from future missions may be overestimated by today's models. We also discuss the need for optimal bandpasses to best differentiate between planet classes.
Secondly, photometric surveys are still the best way of conducting population surveys of exoplanets. In particular, the Kepler dataset remains one of the highest precision photometric datasets and many planetary candidates remain to be characterized. We present techniques by which more information, such as a planet's mass, can be extracted from a transit light curve without expensive ground- or space-based follow-up observations.
Finally, radial-velocity observations have revealed that many of the larger "planets" may actually be brown dwarfs. To understand the distinction between a brown dwarf and an exoplanet or a star, we have developed a simple, semi-analytic viscous disk model to study brown dwarf evolutionary history. We present the rudimentary framework and discuss its performance compared to more detailed numerical simulations as well as how additional physics and development can determine the potential observational characteristics that will differentiate between various formation scenarios.
Exoplanet science has already uncovered a plethora of previously unconsidered phenomenon. To increase our understanding of our own planet, as well as the other various possible end cases, will require a closer inspection of our own solar system, the nuanced details of exoplanet data, refined simulations, and laboratory astrophysics.
May
29
Fri
Remote Colloquium Thesis Defense: Drew Chojnowski
May 29 @ 2:30 pm – 3:30 pm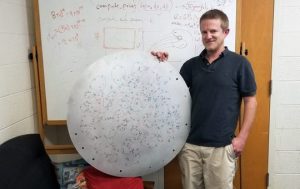 H-Band Spectroscopy of Exotic, Massive Stars
Drew Chojnowski, NMSU
We report on spectroscopy of exotic B-type emission line (Be) stars and chemically peculiar (CP) stars in the near-infrared (NIR) H-band, using data provided by the Apache Point Observatory Galactic Evolution Experiment, one of the sub-surveys of the Sloan Digital Sky Survey (SDSS). Between 2011-2020, SDSS/APOGEE has observed more than a million stars in the Milky Way Galaxy (MW), with roughly 10% of the targets being hot, blue stars that serve as telluric absorption standard stars (TSS). The TSS are selected mostly on the basis of having blue raw J-K color indices with no preference for any particular spectral type that might be known from optical spectroscopy. This targeting strategy has led to the TSS being a mixed bag, with those observed in the MW Halo typically being F-type stars that are only slightly more massive than the Sun, and with those observed in the MW Disk and Bulge being OBA-type stars of a few up to 20 times the mass of the Sun. While the vast majority of the TSS are superficially normal main sequence stars, the inclusion of large numbers of Be and CP stars has serendipitously resulted in the largest ever homogeneous spectroscopic surveys of these stellar classes, both of which present observational anomalies that remain very poorly understand despite more than a hundred years of research. Prior to SDSS/APOGEE, the H-band spectra of Be and CP stars had only been discussed in a handful of studies, all of which used small numbers of spectra of considerably lower resolution than the R=22,500 of the APOGEE instruments. The material presented in this thesis therefore represents the first ever detailed studies of Be and CP stars in the H-band, while also greatly expanding the known samples through discovery of many hundreds of new examples.
Subscribe to filtered calendar