Aug
26
Fri
Colloquium PhD Defense: Kyle Uckert
Aug 26 @ 3:15 pm – 4:15 pm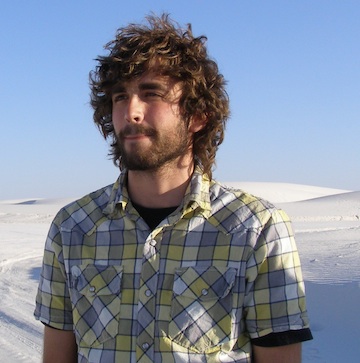 Characterization of Biosignatures within Geologic Samples Analyzed using a Suite of in situ Techniques
Kyle Uckert, NMSU   
Abstract:
I investigated the biosignature detection capabilities of several in situ techniques to evaluate their potential to
detect the presence of extant or extinct life on other planetary surfaces. These instruments included: a laser desorption
time-of- flight mass spectrometer (LD-TOF-MS), an acousto-optic tunable filter (AOTF) infrared (IR) point spectrometer, a
laser-induced breakdown spectrometer (LIBS), X-ray diffraction (XRD)/X-ray fluorescence (XRF), and scanning electron
microscopy (SEM)/energy dispersive X-Ray spectroscopy (EDS). I measured the IR reflectance spectra of several speleothems
in caves in situ to detect the presence of biomineralization. Microorganisms (such as those that may exist on other solar
system bodies) mediate redox reactions to obtain energy for growth and reproduction, producing minerals such as
carbonates, metal oxides, and sulfates as waste products. Microbes occasionally become entombed in their mineral
excrement, essentially acting as a nucleation site for further crystal growth. This process produces minerals with a
crystal lattice distinct from geologic precipitation, detectable with IR reflectance spectroscopy. Using a suite of
samples collected from three subterranean environments, along with statistical analyses including principal component
analysis, I measured subsurface biosignatures associated with these biomineralization effects, including the presence of
trace elements, morphological characteristics, organic molecules, and amorphous crystal structures.
I also explored the optimization of a two-step LD-TOF-MS (L2MS) for the detection of organic molecules and other
biosignatures. I focused my efforts on characterizing the L2MS desorption IR laser wavelength dependence on organic
detection sensitivity in an effort to optimize the detection of high mass (≤100 Da) organic peaks. I analyzed samples
with an IR reflectance spectrometer and an L2MS with a tunable desorption IR laser whose wavelength range (2.7 – 3.45
microns) overlaps that of our IR spectrometer (1.6 – 3.6 microns), and discovered a IR resonance enhancement effect. A
correlation between the maximum IR absorption of organic functional group and mineral vibrational transitions – inferred
from the IR spectrum – and the optimal IR laser configuration for organic detection using L2MS indicates that IR
spectroscopy may be used to inform the optimal L2MS IR laser wavelength for organic detection. This work suggests that a
suite of instruments, particularly LD-TOF-MS and AOTF IR spectroscopy, has strong biosignature detection potential on a
future robotic platform for investigations of other planetary surfaces or subsurfaces.
Mar
31
Fri
Colloquium PhD Defense: Sean Markert
Mar 31 @ 3:15 pm – 4:15 pm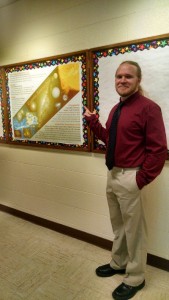 THE SIGNAL OF WEAK GRAVITATIONAL LENSING FROM GALAXY
GROUPS AND CLUSTERS,
Dr. S. Markert, NMSU
The weak gravitational lensing of galaxy clusters is a valuable tool. The deflection of light around a lens is solely dependent on the underlying distribution of foreground mass, and independent of tracers of mass such as the mass to light ratio and kinematics. As a direct probe of mass, weak lensing serves as an independent calibration of mass-observable relationships. These massive clusters are objects of great interest to astronomers, as their abundance is dependent on the conditions of the early universe, and accurate counts of clusters serve as a test of cosmological model. Upcoming surveys, such as LSST and DES, promise to push the limit of observable weak lensing, detecting clusters and sources at higher redshift than has ever been detected before. This makes accurate counts of clusters of a given mass and redshift, and proper calibration of mass-observable relationships, vital to cosmological studies.
We used M> 10 13.5 h −1 M ⊙ halos from the MultiDark Planck simulation at z∼0.5 to study the behavior of the reduced shear in clusters. We generated 2D maps of convergence and shear the halos using the GLAMER lensing library. Using these maps, we simulated observations of randomly placed background sources, and generate azimuthal averages of the shear. This reduced shear profile, and the true reduced shear profile of the halo, is fit using analytical solutions for shear of the NFW, Einasto, and truncated NFW density profile. The masses of these density profiles are then compared to the total halo masses from the halo catalogs.
We find that fits to the reduced shear for halos extending past ≈ 2 h −1 Mpc are fits to the noise of large scale structure along the line of sight. This noise is largely in the 45 ◦ rotated component to the reduced tangential shear, and is a breakdown in the approximation of g tan ≈g tot required for density profile fitting of clusters. If fits are constrained to a projected radii of < 2 h −1 Mpc, we see massively improved fits insensitive to the amount of structure present along the line of sight.
Subscribe to filtered calendar