Nov
18
Fri
Colloquium: Karen Olsen
Nov 18 @ 3:15 pm – 4:15 pm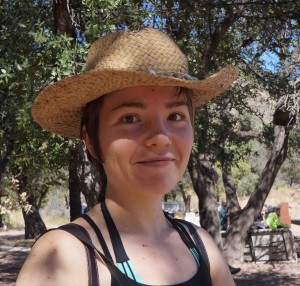 Simulations of the interstellar medium at high redshift: What does [CII] trace?
Dr. Karen Olsen, Arizona State University
We are in an exciting era were simulations on large, cosmological scales meet modeling of the interstellar medium (ISM) on sub-parsec scales. This gives us a way to predict and interpret observations of the ISM, and in particular the star-forming gas, in high-redshift galaxies, useful for ongoing and future ALMA/VLA projects.
In this talk, I will walk you though the current state of simulations targeting the the fine structure line of [CII] at 158 microns, which has now been observed in several z>6 galaxies. [CII] can arise throughout the interstellar medium (ISM), but the brightness of the [CII] line depends strongly on local environment within a galaxy, meaning that the ISM phase dominating the [CII] emission can depend on galaxy type. This complicates the use of [CII] as a tracer of either SFR or ISM mass and calls for detailed modeling following the different ways in which [CII] can be excited.
I will present SÍGAME (Simulator of GAlaxy Millimeter/submillimeter emission) – a novel method for predicting the origin and strength of line emission from galaxies. Our method combines data from cosmological simulations with sub-grid physics that carefully calculates local radiation field strength, pressure, and ionizational/thermal balance. Preliminary results will be shown from recent modeling of [CII] emission from z~6 star-forming galaxies with SÍGAME. We find strong potential for using the total [CII] luminosity to derive the ISM and molecular gas mass of galaxies during the Epoch of Reionization (EoR).
Mar
2
Thu
Colloquium: Jack Burns (Host: Nancy Chanover)
Mar 2 @ 3:15 pm – 4:15 pm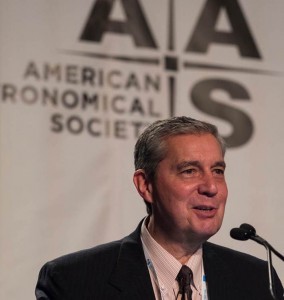 Cosmology from the Moon: The Dark Ages Radio Explorer (DARE)
Dr. Jack Burns, University of Colorado Boulder
In the New Worlds, New Horizons in Astronomy & Astrophysics Decadal Survey, Cosmic Dawn was singled out as one of the top astrophysics priorities for this decade. Specifically, the Decadal report asked "when and how did the first galaxies form out of cold clumps of hydrogen gas and start to shine—when was our cosmic dawn?" It proposed "astronomers must now search the sky for these infant galaxies and find out how they behaved and interacted with their surroundings." This is the science objective of DARE – to search for the first stars, galaxies, and black holes via their impact on the intergalactic medium (IGM) as measured by the highly redshifted 21-cm hyperfine transition of neutral hydrogen (HI). DARE will probe redshifts of 11-35 (Dark Ages to Cosmic Dawn) with observed HI frequencies of 40-120 MHz. DARE will observe expected spectral features in the global signal of HI that correspond to stellar ignition (Lyman-α from the first stars coupling with the HI hyperfine transition), X-ray heating/ionization of the IGM from the first accreting black holes, and the beginning of reionization (signal dominated by IGM ionization fraction). These observations will complement those expected from JWST, ALMA, and HERA. We propose to observe these spectral features with a broad-beam dipole antenna along with a wide-band receiver and digital spectrometer. We will place DARE in lunar orbit and take data only above the farside, a location known to be free of human-generated RFI and with a negligible ionosphere. In this talk, I will present the mission concept including initial results from an engineering prototypes which are designed to perform end-to-end validation of the instrument and our calibration techniques. I will also describe our signal extraction tool, using a Markov Chain Monte Carlo technique, which measures the parameterized spectral features in the presence of substantial Galactic and solar system foregrounds.
Subscribe to filtered calendar