Oct
28
Fri
Colloquium: Mark Wardle
Oct 28 @ 3:15 pm – 4:15 pm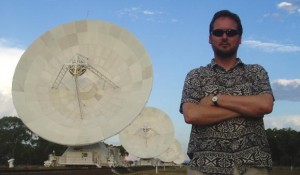 Star formation in the vicinity of the supermassive black hole at the Galactic Centre
Dr. Mark Wardle, Macquarie University
The disruptive tidal field near supermassive black holes overcomes the self-gravity of objects that are less dense than the Roche density.  This was once expected to suppress star formation within several parsecs of  Sgr A*, the four million solar mass black hole at the centre of the Galaxy.   It has since become apparent that things are not this simple:  Sgr A* is surrounded by a sub-parsec-scale orbiting disk of massive stars, indicating a star formation event occurred a few million years ago.    And on parsec scales,  star formation seems to be happening now:  there are proplyd candidates and protostellar outflow candidates,  as well as methanol and water masers that in the galactic disk would be regarded as sure-fire signatures of star formation.  In this talk, I shall consider how star formation can occur so close to Sgr A*.
The stellar disk may be created through the partial capture of a molecular cloud as it swept through the inner few parsecs of the galaxy and temporarily engulfed Sgr A*.  This rather naturally creates a disk of gas with the steep surface density profile of the present stellar disk.  The inner 0.04 pc  is so optically thick that it cannot fragment, instead accreting onto Sgr A* in a few million years; meanwhile the outer disk fragments and creates the observed stellar disk.   The isolated young stellar objects found at larger distances, on the other hand,  can be explained by stabilisation of clouds or cloud cores by the high external pressure that permeates the inner Galaxy.   A virial analysis shows that clouds are indeed tidally disrupted within 0.5 pc of Sgr A*, but outside this the external pressure allows self-gravitating clouds to survive, providing the raw material for ongoing star formation.
Mar
2
Thu
Colloquium: Jack Burns (Host: Nancy Chanover)
Mar 2 @ 3:15 pm – 4:15 pm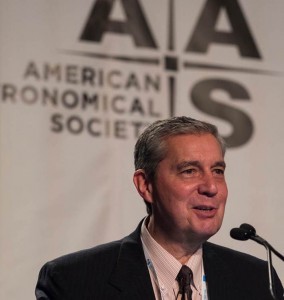 Cosmology from the Moon: The Dark Ages Radio Explorer (DARE)
Dr. Jack Burns, University of Colorado Boulder
In the New Worlds, New Horizons in Astronomy & Astrophysics Decadal Survey, Cosmic Dawn was singled out as one of the top astrophysics priorities for this decade. Specifically, the Decadal report asked "when and how did the first galaxies form out of cold clumps of hydrogen gas and start to shine—when was our cosmic dawn?" It proposed "astronomers must now search the sky for these infant galaxies and find out how they behaved and interacted with their surroundings." This is the science objective of DARE – to search for the first stars, galaxies, and black holes via their impact on the intergalactic medium (IGM) as measured by the highly redshifted 21-cm hyperfine transition of neutral hydrogen (HI). DARE will probe redshifts of 11-35 (Dark Ages to Cosmic Dawn) with observed HI frequencies of 40-120 MHz. DARE will observe expected spectral features in the global signal of HI that correspond to stellar ignition (Lyman-α from the first stars coupling with the HI hyperfine transition), X-ray heating/ionization of the IGM from the first accreting black holes, and the beginning of reionization (signal dominated by IGM ionization fraction). These observations will complement those expected from JWST, ALMA, and HERA. We propose to observe these spectral features with a broad-beam dipole antenna along with a wide-band receiver and digital spectrometer. We will place DARE in lunar orbit and take data only above the farside, a location known to be free of human-generated RFI and with a negligible ionosphere. In this talk, I will present the mission concept including initial results from an engineering prototypes which are designed to perform end-to-end validation of the instrument and our calibration techniques. I will also describe our signal extraction tool, using a Markov Chain Monte Carlo technique, which measures the parameterized spectral features in the presence of substantial Galactic and solar system foregrounds.
Subscribe to filtered calendar