Feb
12
Fri
Colloquium: Lauren Woolsey
Feb 12 @ 3:15 pm – 4:15 pm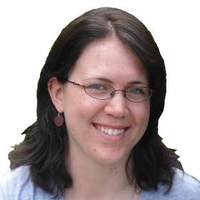 Magnetic Influences on Coronal Heating and the Solar Wind
Abstract
The physical mechanism(s) that generate and accelerate the solar wind have not been conclusively determined after decades of study, though not for lack of possibilities. The long list of proposed processes can be grouped into two main paradigms: 1) models that require the rearranging of magnetic topology through magnetic reconnection in order to release energy and accelerate the wind and 2) models that require the launching of magnetoacoustic and Alfvén waves to propagate along the magnetic field and generate turbulence to heat the corona and accelerate the emanating wind. After a short overview of these paradigms, I will present my ongoing dissertation work that seeks to investigate the latter category of theoretical models and the role that different magnetic field profiles play in the resulting solar wind properties with Alfvén-wave-driven turbulent heating. I will describe the computer modeling in 1D and 3D that I have done of bundles of magnetic field (flux tubes) that are open to the heliosphere, and what our results can tell us about the influences of magnetic field on the solar wind in these flux tubes, including the latest time-dependent modeling that produces bursty, nanoflare-like heating. Additionally, I will present the latest results of our study of chromospheric network jets and the magnetic thresholds we are finding in magnetogram data.
Sep
9
Fri
Colloquium Thesis Proposal: Lauren Kahre
Sep 9 @ 3:15 pm – 4:15 pm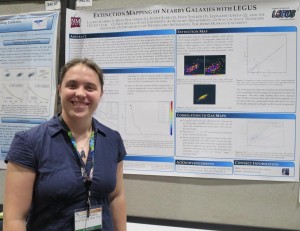 Extinction mapping with LEGUS
Lauren Kahre
The study of star formation and galaxy evolution in nearby galaxies depends on obtaining accurate stellar photometry in those galaxies. However, dust in the galaxies hinders our ability to obtain accurate stellar photometry, particularly in star-forming galaxies that have the highest concentrations of dust. This proposal presents a thesis project to develop a method for generating extragalactic extinction maps using photometry of massive stars from the Hubble Space Telescope. This photometry spans nearly 50 galaxies observed by the Legacy Extragalactic Ultraviolet Survey (LEGUS). The derived extinction maps can be used to correct other stars and Halpha maps (from the Halpha LEGUS) for extinction, and will be used to constrain changes in the dust-to-gas ratio across the galaxy sample and in different star formation rate, metallicity and morphological environments. Previous studies have found links between galaxy metallicty and the dust-to-gas mass ratio. The relationship between these two quantities can be used to constrain chemical evolution models.
Selected galaxies will also be compared to IR-derived dust maps for comparison to recent M31 results from Dalcanton et al. (2015) which found a minimum factor of 2 inconsistency between their extinction-derived maps and emission-derived maps from Draine et al. (2014).
Subscribe to filtered calendar