Aug
26
Fri
Colloquium PhD Defense: Kyle Uckert
Aug 26 @ 3:15 pm – 4:15 pm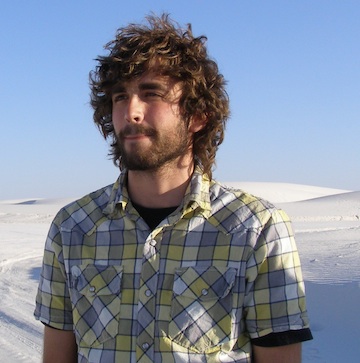 Characterization of Biosignatures within Geologic Samples Analyzed using a Suite of in situ Techniques
Kyle Uckert, NMSU   
Abstract:
I investigated the biosignature detection capabilities of several in situ techniques to evaluate their potential to
detect the presence of extant or extinct life on other planetary surfaces. These instruments included: a laser desorption
time-of- flight mass spectrometer (LD-TOF-MS), an acousto-optic tunable filter (AOTF) infrared (IR) point spectrometer, a
laser-induced breakdown spectrometer (LIBS), X-ray diffraction (XRD)/X-ray fluorescence (XRF), and scanning electron
microscopy (SEM)/energy dispersive X-Ray spectroscopy (EDS). I measured the IR reflectance spectra of several speleothems
in caves in situ to detect the presence of biomineralization. Microorganisms (such as those that may exist on other solar
system bodies) mediate redox reactions to obtain energy for growth and reproduction, producing minerals such as
carbonates, metal oxides, and sulfates as waste products. Microbes occasionally become entombed in their mineral
excrement, essentially acting as a nucleation site for further crystal growth. This process produces minerals with a
crystal lattice distinct from geologic precipitation, detectable with IR reflectance spectroscopy. Using a suite of
samples collected from three subterranean environments, along with statistical analyses including principal component
analysis, I measured subsurface biosignatures associated with these biomineralization effects, including the presence of
trace elements, morphological characteristics, organic molecules, and amorphous crystal structures.
I also explored the optimization of a two-step LD-TOF-MS (L2MS) for the detection of organic molecules and other
biosignatures. I focused my efforts on characterizing the L2MS desorption IR laser wavelength dependence on organic
detection sensitivity in an effort to optimize the detection of high mass (≤100 Da) organic peaks. I analyzed samples
with an IR reflectance spectrometer and an L2MS with a tunable desorption IR laser whose wavelength range (2.7 – 3.45
microns) overlaps that of our IR spectrometer (1.6 – 3.6 microns), and discovered a IR resonance enhancement effect. A
correlation between the maximum IR absorption of organic functional group and mineral vibrational transitions – inferred
from the IR spectrum – and the optimal IR laser configuration for organic detection using L2MS indicates that IR
spectroscopy may be used to inform the optimal L2MS IR laser wavelength for organic detection. This work suggests that a
suite of instruments, particularly LD-TOF-MS and AOTF IR spectroscopy, has strong biosignature detection potential on a
future robotic platform for investigations of other planetary surfaces or subsurfaces.
Oct
28
Fri
Colloquium: Mark Wardle
Oct 28 @ 3:15 pm – 4:15 pm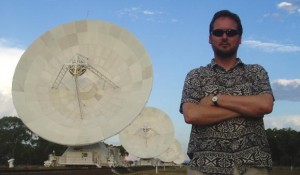 Star formation in the vicinity of the supermassive black hole at the Galactic Centre
Dr. Mark Wardle, Macquarie University
The disruptive tidal field near supermassive black holes overcomes the self-gravity of objects that are less dense than the Roche density.  This was once expected to suppress star formation within several parsecs of  Sgr A*, the four million solar mass black hole at the centre of the Galaxy.   It has since become apparent that things are not this simple:  Sgr A* is surrounded by a sub-parsec-scale orbiting disk of massive stars, indicating a star formation event occurred a few million years ago.    And on parsec scales,  star formation seems to be happening now:  there are proplyd candidates and protostellar outflow candidates,  as well as methanol and water masers that in the galactic disk would be regarded as sure-fire signatures of star formation.  In this talk, I shall consider how star formation can occur so close to Sgr A*.
The stellar disk may be created through the partial capture of a molecular cloud as it swept through the inner few parsecs of the galaxy and temporarily engulfed Sgr A*.  This rather naturally creates a disk of gas with the steep surface density profile of the present stellar disk.  The inner 0.04 pc  is so optically thick that it cannot fragment, instead accreting onto Sgr A* in a few million years; meanwhile the outer disk fragments and creates the observed stellar disk.   The isolated young stellar objects found at larger distances, on the other hand,  can be explained by stabilisation of clouds or cloud cores by the high external pressure that permeates the inner Galaxy.   A virial analysis shows that clouds are indeed tidally disrupted within 0.5 pc of Sgr A*, but outside this the external pressure allows self-gravitating clouds to survive, providing the raw material for ongoing star formation.
Subscribe to filtered calendar