Dec
4
Fri
Colloquium: Brian Jackson
Dec 4 @ 3:15 pm – 4:15 pm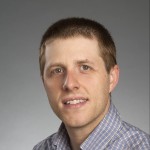 On the Edge: Exoplanets with Orbital Periods Shorter Than a Peter Jackson Movie
From wispy gas giants to tiny rocky bodies, exoplanets with orbital periods of several days and less challenge theories of planet formation and evolution. Recent searches have found small rocky planets with orbits reaching almost down to their host stars' surfaces, including an iron-rich Mars-sized body with an orbital period of only four hours. So close to their host stars that some of them are actively disintegrating, these objects' origins remain unclear, and even formation models that allow significant migration have trouble accounting for their very short periods. Some are members of multi-planet system and may have been driven inward via secular excitation and tidal damping by their sibling planets. Others may be the fossil cores of former gas giants whose atmospheres were stripped by tides.
In this presentation, I'll discuss the work of our Short-Period Planets Group (SuPerPiG), focused on finding and understanding this surprising new class of exoplanets. We are sifting data from the reincarnated Kepler Mission, K2, to search for additional short-period planets and have found several new candidates. We are also modeling the tidal decay and disruption of close-in gaseous planets to determine how we could identify their remnants, and preliminary results suggest the cores have a distinctive mass-period relationship that may be apparent in the observed population. Whatever their origins, short-period planets are particularly amenable to discovery and detailed follow-up by ongoing and future surveys, including the TESS mission.
Mar
11
Fri
Colloquium Thesis Proposal: Alexander Thelen (Host: Nancy Chanover)
Mar 11 @ 2:00 pm – 3:00 pm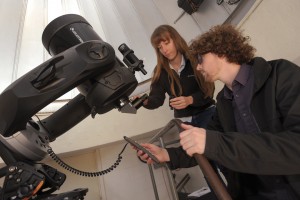 The Chemical History and Evolution of Titan's Atmosphere as Revealed by ALMA
Saturn's largest moon, Titan, possesses a substantial atmosphere containing significant minorities of nitrile and hydrocarbon species, predominantly due to the photodissociation of the major gases, N2 and CH4. Titan's methane cycle, liquid lakes, and complex organic chemistry make it an intriguing target through its similarities to Earth and the allure of its astrobiological potential. Though the existence of heavy nitrile species – such as CH3C3N, HC5N, and C3H7CN – has been inferred through Cassini Ion and Neutral Mass Spectrometer (INMS) data, confirmation of these species has yet to be made spectroscopically. Other hydrocarbon species, such as C3H4 and C3H8 have been detected using Voyager's Infrared Spectrometer (IRIS; Maguire et al., 1981) and later mapped by the Composite Infrared Spectrometer (CIRS; Nixon et al., 2013) onboard Cassini, but abundance constraints for these species in the mesosphere is poor. To fully understand the production of these species and their spatial distribution in Titan's atmosphere, vertical abundance profiles must be produced to use with current photochemical models. Utilizing early science calibration images of Titan obtained with the Atacama Large Millimeter/Submillimeter Array (ALMA), Cordiner et al. (2014; 2015) determined the vertical distribution of various nitriles and hydrocarbons in Titan's atmosphere, including at least one previously undetected molecule – C2H5CN. For my dissertation project, I will calibrate and model sub-millimeter emissions from molecules in Titan's atmosphere, and quantify variations in the spatial distribution of various species throughout its seasonal cycle by utilizing high resolution ALMA data.  The main goals of this project are as follows:
1. To search for previously undetected molecules in Titan's atmosphere through analysis of the existing public ALMA data, and/or through ALMA proposals of my own;
2. Constrain abundance profiles of detected molecular species, and provide upper abundance limits for those we cannot detect;
3. Map the spatial distribution of detected species in order to improve our understanding of Titan's atmospheric transport and circulation;
4. Determine how these spatial distributions change over Titan's seasonal cycle by utilizing multiple years of public ALMA data.
The majority of this work will employ the Non-linear Optimal Estimator for MultivariatE Spectral analySIS (NEMESIS) software package, developed by Oxford University (Irwin et al., 2008), to retrieve abundance and temperature information through radiative transfer models. These results will allow us to investigate the chemical evolution and history of Titan's rich, pre-biotic atmosphere by providing valuable abundance measurements and constraints to molecular photochemical and dynamical models. We will compare our results with measurements made by the Cassini spacecraft, thereby enhancing the scientific return from both orbiter and ALMA datasets. The increased inventory of complex, organic molecules observable with ALMA's sub-mm frequency range and high spatial resolution may also yield detections of species fundamental to the formation of living organisms, such as amino acids. Thus, by informing photochemical and dynamical models and increasing our known inventory of complex molecular species, we will also assess Titan's potential habitability.
Mar
2
Thu
Colloquium: Jack Burns (Host: Nancy Chanover)
Mar 2 @ 3:15 pm – 4:15 pm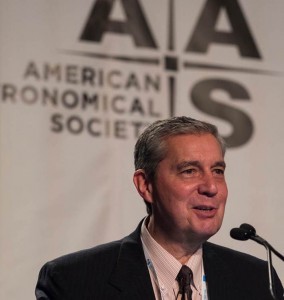 Cosmology from the Moon: The Dark Ages Radio Explorer (DARE)
Dr. Jack Burns, University of Colorado Boulder
In the New Worlds, New Horizons in Astronomy & Astrophysics Decadal Survey, Cosmic Dawn was singled out as one of the top astrophysics priorities for this decade. Specifically, the Decadal report asked "when and how did the first galaxies form out of cold clumps of hydrogen gas and start to shine—when was our cosmic dawn?" It proposed "astronomers must now search the sky for these infant galaxies and find out how they behaved and interacted with their surroundings." This is the science objective of DARE – to search for the first stars, galaxies, and black holes via their impact on the intergalactic medium (IGM) as measured by the highly redshifted 21-cm hyperfine transition of neutral hydrogen (HI). DARE will probe redshifts of 11-35 (Dark Ages to Cosmic Dawn) with observed HI frequencies of 40-120 MHz. DARE will observe expected spectral features in the global signal of HI that correspond to stellar ignition (Lyman-α from the first stars coupling with the HI hyperfine transition), X-ray heating/ionization of the IGM from the first accreting black holes, and the beginning of reionization (signal dominated by IGM ionization fraction). These observations will complement those expected from JWST, ALMA, and HERA. We propose to observe these spectral features with a broad-beam dipole antenna along with a wide-band receiver and digital spectrometer. We will place DARE in lunar orbit and take data only above the farside, a location known to be free of human-generated RFI and with a negligible ionosphere. In this talk, I will present the mission concept including initial results from an engineering prototypes which are designed to perform end-to-end validation of the instrument and our calibration techniques. I will also describe our signal extraction tool, using a Markov Chain Monte Carlo technique, which measures the parameterized spectral features in the presence of substantial Galactic and solar system foregrounds.
Subscribe to filtered calendar