Feb
5
Fri
Colloquium: Steve Finkelstein (Host: Kristian Finlator)
Feb 5 @ 3:15 pm – 4:15 pm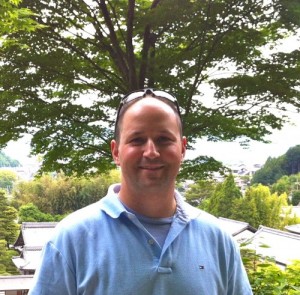 Galaxy Evolution during the Epoch of Reionization
                       Abstract: The advent of the Wide Field Camera 3 on the Hubble Space Telescope has heralded a new era in our ability to study the earliest phases of galaxy formation and evolution.  The number of candidates for galaxies now known at redshifts greater than six has grown to be in the thousands.  This allows us to move beyond mere counting of galaxies, to endeavor to understand the detailed physics regulating the growth of galaxies.  I will review the recent progress our group in Texas has made in this arena using the exquisite datasets from the CANDELS and Frontier Fields programs.  Specifically, our detailed new measurements of both the evolution of the stellar mass function and rest-frame UV luminosity function now allow us to probe the effect of feedback on low-mass galaxies, the star-formation efficiency in high-mass galaxies, and the contribution of galaxies to the reionization of the universe.  Our most recent result comes from the Frontier Fields, where we have used an advanced technique to remove the light from the cluster galaxies to uncover z > 6 galaxies as faint as M_UV=-13.  Our updated luminosity functions show no sign of a turnover down to these extremely faint levels, providing the first empirical test of reionization models which require such faint galaxies, and is in modest tension with simulations which predict a turnover at brighter levels.   I will also discuss our spectroscopic followup efforts, which have yielded two of the four highest redshift confirmed galaxies, and also provide further insight into reionization, by the scattering of Lyman alpha emission by neutral gas in the intergalactic medium.  I will conclude with a look ahead to the problems we can expect to tackle with ALMA, JWST, and even more future facilities.
Sep
9
Fri
Colloquium Thesis Proposal: Lauren Kahre
Sep 9 @ 3:15 pm – 4:15 pm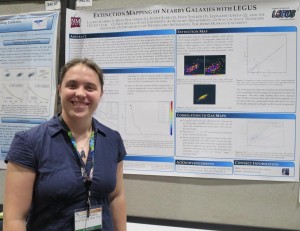 Extinction mapping with LEGUS
Lauren Kahre
The study of star formation and galaxy evolution in nearby galaxies depends on obtaining accurate stellar photometry in those galaxies. However, dust in the galaxies hinders our ability to obtain accurate stellar photometry, particularly in star-forming galaxies that have the highest concentrations of dust. This proposal presents a thesis project to develop a method for generating extragalactic extinction maps using photometry of massive stars from the Hubble Space Telescope. This photometry spans nearly 50 galaxies observed by the Legacy Extragalactic Ultraviolet Survey (LEGUS). The derived extinction maps can be used to correct other stars and Halpha maps (from the Halpha LEGUS) for extinction, and will be used to constrain changes in the dust-to-gas ratio across the galaxy sample and in different star formation rate, metallicity and morphological environments. Previous studies have found links between galaxy metallicty and the dust-to-gas mass ratio. The relationship between these two quantities can be used to constrain chemical evolution models.
Selected galaxies will also be compared to IR-derived dust maps for comparison to recent M31 results from Dalcanton et al. (2015) which found a minimum factor of 2 inconsistency between their extinction-derived maps and emission-derived maps from Draine et al. (2014).
Subscribe to filtered calendar