Dec
4
Fri
Colloquium: Brian Jackson
Dec 4 @ 3:15 pm – 4:15 pm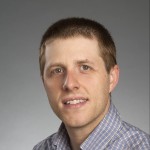 On the Edge: Exoplanets with Orbital Periods Shorter Than a Peter Jackson Movie
From wispy gas giants to tiny rocky bodies, exoplanets with orbital periods of several days and less challenge theories of planet formation and evolution. Recent searches have found small rocky planets with orbits reaching almost down to their host stars' surfaces, including an iron-rich Mars-sized body with an orbital period of only four hours. So close to their host stars that some of them are actively disintegrating, these objects' origins remain unclear, and even formation models that allow significant migration have trouble accounting for their very short periods. Some are members of multi-planet system and may have been driven inward via secular excitation and tidal damping by their sibling planets. Others may be the fossil cores of former gas giants whose atmospheres were stripped by tides.
In this presentation, I'll discuss the work of our Short-Period Planets Group (SuPerPiG), focused on finding and understanding this surprising new class of exoplanets. We are sifting data from the reincarnated Kepler Mission, K2, to search for additional short-period planets and have found several new candidates. We are also modeling the tidal decay and disruption of close-in gaseous planets to determine how we could identify their remnants, and preliminary results suggest the cores have a distinctive mass-period relationship that may be apparent in the observed population. Whatever their origins, short-period planets are particularly amenable to discovery and detailed follow-up by ongoing and future surveys, including the TESS mission.
Oct
28
Fri
Colloquium: Mark Wardle
Oct 28 @ 3:15 pm – 4:15 pm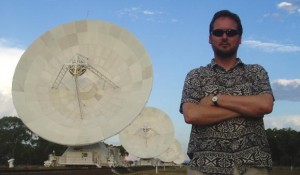 Star formation in the vicinity of the supermassive black hole at the Galactic Centre
Dr. Mark Wardle, Macquarie University
The disruptive tidal field near supermassive black holes overcomes the self-gravity of objects that are less dense than the Roche density.  This was once expected to suppress star formation within several parsecs of  Sgr A*, the four million solar mass black hole at the centre of the Galaxy.   It has since become apparent that things are not this simple:  Sgr A* is surrounded by a sub-parsec-scale orbiting disk of massive stars, indicating a star formation event occurred a few million years ago.    And on parsec scales,  star formation seems to be happening now:  there are proplyd candidates and protostellar outflow candidates,  as well as methanol and water masers that in the galactic disk would be regarded as sure-fire signatures of star formation.  In this talk, I shall consider how star formation can occur so close to Sgr A*.
The stellar disk may be created through the partial capture of a molecular cloud as it swept through the inner few parsecs of the galaxy and temporarily engulfed Sgr A*.  This rather naturally creates a disk of gas with the steep surface density profile of the present stellar disk.  The inner 0.04 pc  is so optically thick that it cannot fragment, instead accreting onto Sgr A* in a few million years; meanwhile the outer disk fragments and creates the observed stellar disk.   The isolated young stellar objects found at larger distances, on the other hand,  can be explained by stabilisation of clouds or cloud cores by the high external pressure that permeates the inner Galaxy.   A virial analysis shows that clouds are indeed tidally disrupted within 0.5 pc of Sgr A*, but outside this the external pressure allows self-gravitating clouds to survive, providing the raw material for ongoing star formation.
Oct
16
Mon
Pizza Lunch: Ken Naiff
Oct 16 @ 12:30 pm – 1:30 pm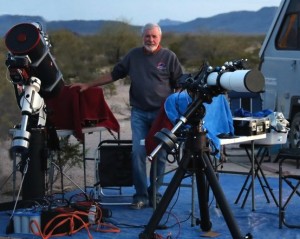 Dark Sky Images
Ken Naiff
Ken, an retired engineer, is a highly technically skilled and artistic
astrophotographer.  He will be sharing some of his work and elaborating on
the technical methods and processing techniques he applies to obtain his
unique and enhanced images.  You can see Ken's work at:
https://darkskyimagesbyken.com/products
Subscribe to filtered calendar