Oct
28
Fri
Colloquium: Mark Wardle
Oct 28 @ 3:15 pm – 4:15 pm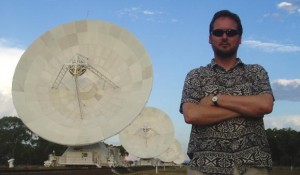 Star formation in the vicinity of the supermassive black hole at the Galactic Centre
Dr. Mark Wardle, Macquarie University
The disruptive tidal field near supermassive black holes overcomes the self-gravity of objects that are less dense than the Roche density.  This was once expected to suppress star formation within several parsecs of  Sgr A*, the four million solar mass black hole at the centre of the Galaxy.   It has since become apparent that things are not this simple:  Sgr A* is surrounded by a sub-parsec-scale orbiting disk of massive stars, indicating a star formation event occurred a few million years ago.    And on parsec scales,  star formation seems to be happening now:  there are proplyd candidates and protostellar outflow candidates,  as well as methanol and water masers that in the galactic disk would be regarded as sure-fire signatures of star formation.  In this talk, I shall consider how star formation can occur so close to Sgr A*.
The stellar disk may be created through the partial capture of a molecular cloud as it swept through the inner few parsecs of the galaxy and temporarily engulfed Sgr A*.  This rather naturally creates a disk of gas with the steep surface density profile of the present stellar disk.  The inner 0.04 pc  is so optically thick that it cannot fragment, instead accreting onto Sgr A* in a few million years; meanwhile the outer disk fragments and creates the observed stellar disk.   The isolated young stellar objects found at larger distances, on the other hand,  can be explained by stabilisation of clouds or cloud cores by the high external pressure that permeates the inner Galaxy.   A virial analysis shows that clouds are indeed tidally disrupted within 0.5 pc of Sgr A*, but outside this the external pressure allows self-gravitating clouds to survive, providing the raw material for ongoing star formation.
Nov
18
Fri
Colloquium: Karen Olsen
Nov 18 @ 3:15 pm – 4:15 pm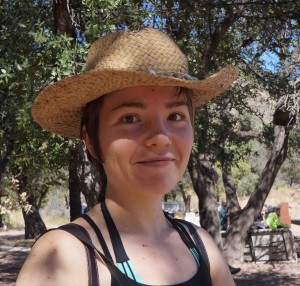 Simulations of the interstellar medium at high redshift: What does [CII] trace?
Dr. Karen Olsen, Arizona State University
We are in an exciting era were simulations on large, cosmological scales meet modeling of the interstellar medium (ISM) on sub-parsec scales. This gives us a way to predict and interpret observations of the ISM, and in particular the star-forming gas, in high-redshift galaxies, useful for ongoing and future ALMA/VLA projects.
In this talk, I will walk you though the current state of simulations targeting the the fine structure line of [CII] at 158 microns, which has now been observed in several z>6 galaxies. [CII] can arise throughout the interstellar medium (ISM), but the brightness of the [CII] line depends strongly on local environment within a galaxy, meaning that the ISM phase dominating the [CII] emission can depend on galaxy type. This complicates the use of [CII] as a tracer of either SFR or ISM mass and calls for detailed modeling following the different ways in which [CII] can be excited.
I will present SÍGAME (Simulator of GAlaxy Millimeter/submillimeter emission) – a novel method for predicting the origin and strength of line emission from galaxies. Our method combines data from cosmological simulations with sub-grid physics that carefully calculates local radiation field strength, pressure, and ionizational/thermal balance. Preliminary results will be shown from recent modeling of [CII] emission from z~6 star-forming galaxies with SÍGAME. We find strong potential for using the total [CII] luminosity to derive the ISM and molecular gas mass of galaxies during the Epoch of Reionization (EoR).
Subscribe to filtered calendar