Nov
18
Fri
Colloquium: Karen Olsen
Nov 18 @ 3:15 pm – 4:15 pm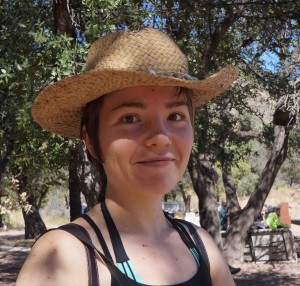 Simulations of the interstellar medium at high redshift: What does [CII] trace?
Dr. Karen Olsen, Arizona State University
We are in an exciting era were simulations on large, cosmological scales meet modeling of the interstellar medium (ISM) on sub-parsec scales. This gives us a way to predict and interpret observations of the ISM, and in particular the star-forming gas, in high-redshift galaxies, useful for ongoing and future ALMA/VLA projects.
In this talk, I will walk you though the current state of simulations targeting the the fine structure line of [CII] at 158 microns, which has now been observed in several z>6 galaxies. [CII] can arise throughout the interstellar medium (ISM), but the brightness of the [CII] line depends strongly on local environment within a galaxy, meaning that the ISM phase dominating the [CII] emission can depend on galaxy type. This complicates the use of [CII] as a tracer of either SFR or ISM mass and calls for detailed modeling following the different ways in which [CII] can be excited.
I will present SÍGAME (Simulator of GAlaxy Millimeter/submillimeter emission) – a novel method for predicting the origin and strength of line emission from galaxies. Our method combines data from cosmological simulations with sub-grid physics that carefully calculates local radiation field strength, pressure, and ionizational/thermal balance. Preliminary results will be shown from recent modeling of [CII] emission from z~6 star-forming galaxies with SÍGAME. We find strong potential for using the total [CII] luminosity to derive the ISM and molecular gas mass of galaxies during the Epoch of Reionization (EoR).
Sep
1
Fri
Colloquium: Isak Wold (Host: Moire Prescott)
Sep 1 @ 3:15 pm – 4:15 pm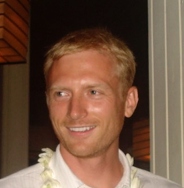 A Faint Flux-Limited LAE Sample at z = 0.3
Isak Wold, UT Austin
Observational surveys of Lya emitters (LAEs) have proven to be an efficient method to identify and study large numbers of galaxies over a wide redshift range. To understand what types of galaxies are selected in LAE surveys – and how this evolves with redshift – it is important to establish a low-redshift reference sample that can be directly compared to high-redshift samples.  The lowest redshift where a direct Lya survey is currently possible is at a redshift of z~0.3 via the Galaxy Evolution Explorer (GALEX ) FUV grism data. Using the z~0.3 GALEX sample as an anchor point, it has been suggested that at low redshifts high equivalent width (EW) LAEs become less prevalent and that the amount of escaping Lya emission declines rapidly.  A number of explanations for these trends have been suggested including increasing dust content, increasing neutral column density, and/or increasing metallicity of star-forming galaxies at lower redshifts. However, the published z~0.3 GALEX sample is pre-selected from bright NUV objects.  Thus, objects with strong Lya emission but faint continuum (high-EW LAEs) could be missed.  In this talk, I will present my efforts to re-reduce the deepest archival GALEX FUV grism data and obtain a sample that is not biased against high-EW LAEs.  I will discuss the implications of this new sample on the evolutionary trends listed above.
Subscribe to filtered calendar