Aug
26
Fri
Colloquium PhD Defense: Kyle Uckert
Aug 26 @ 3:15 pm – 4:15 pm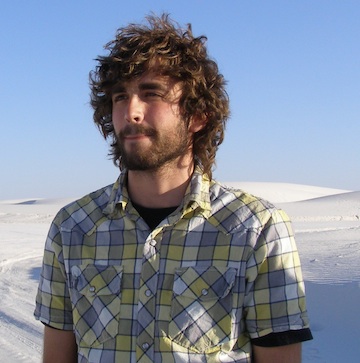 Characterization of Biosignatures within Geologic Samples Analyzed using a Suite of in situ Techniques
Kyle Uckert, NMSU   
Abstract:
I investigated the biosignature detection capabilities of several in situ techniques to evaluate their potential to
detect the presence of extant or extinct life on other planetary surfaces. These instruments included: a laser desorption
time-of- flight mass spectrometer (LD-TOF-MS), an acousto-optic tunable filter (AOTF) infrared (IR) point spectrometer, a
laser-induced breakdown spectrometer (LIBS), X-ray diffraction (XRD)/X-ray fluorescence (XRF), and scanning electron
microscopy (SEM)/energy dispersive X-Ray spectroscopy (EDS). I measured the IR reflectance spectra of several speleothems
in caves in situ to detect the presence of biomineralization. Microorganisms (such as those that may exist on other solar
system bodies) mediate redox reactions to obtain energy for growth and reproduction, producing minerals such as
carbonates, metal oxides, and sulfates as waste products. Microbes occasionally become entombed in their mineral
excrement, essentially acting as a nucleation site for further crystal growth. This process produces minerals with a
crystal lattice distinct from geologic precipitation, detectable with IR reflectance spectroscopy. Using a suite of
samples collected from three subterranean environments, along with statistical analyses including principal component
analysis, I measured subsurface biosignatures associated with these biomineralization effects, including the presence of
trace elements, morphological characteristics, organic molecules, and amorphous crystal structures.
I also explored the optimization of a two-step LD-TOF-MS (L2MS) for the detection of organic molecules and other
biosignatures. I focused my efforts on characterizing the L2MS desorption IR laser wavelength dependence on organic
detection sensitivity in an effort to optimize the detection of high mass (≤100 Da) organic peaks. I analyzed samples
with an IR reflectance spectrometer and an L2MS with a tunable desorption IR laser whose wavelength range (2.7 – 3.45
microns) overlaps that of our IR spectrometer (1.6 – 3.6 microns), and discovered a IR resonance enhancement effect. A
correlation between the maximum IR absorption of organic functional group and mineral vibrational transitions – inferred
from the IR spectrum – and the optimal IR laser configuration for organic detection using L2MS indicates that IR
spectroscopy may be used to inform the optimal L2MS IR laser wavelength for organic detection. This work suggests that a
suite of instruments, particularly LD-TOF-MS and AOTF IR spectroscopy, has strong biosignature detection potential on a
future robotic platform for investigations of other planetary surfaces or subsurfaces.
Nov
18
Fri
Colloquium: Karen Olsen
Nov 18 @ 3:15 pm – 4:15 pm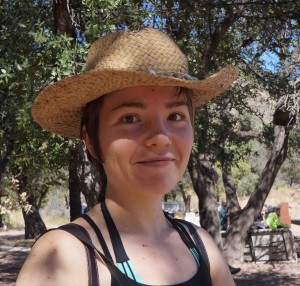 Simulations of the interstellar medium at high redshift: What does [CII] trace?
Dr. Karen Olsen, Arizona State University
We are in an exciting era were simulations on large, cosmological scales meet modeling of the interstellar medium (ISM) on sub-parsec scales. This gives us a way to predict and interpret observations of the ISM, and in particular the star-forming gas, in high-redshift galaxies, useful for ongoing and future ALMA/VLA projects.
In this talk, I will walk you though the current state of simulations targeting the the fine structure line of [CII] at 158 microns, which has now been observed in several z>6 galaxies. [CII] can arise throughout the interstellar medium (ISM), but the brightness of the [CII] line depends strongly on local environment within a galaxy, meaning that the ISM phase dominating the [CII] emission can depend on galaxy type. This complicates the use of [CII] as a tracer of either SFR or ISM mass and calls for detailed modeling following the different ways in which [CII] can be excited.
I will present SÍGAME (Simulator of GAlaxy Millimeter/submillimeter emission) – a novel method for predicting the origin and strength of line emission from galaxies. Our method combines data from cosmological simulations with sub-grid physics that carefully calculates local radiation field strength, pressure, and ionizational/thermal balance. Preliminary results will be shown from recent modeling of [CII] emission from z~6 star-forming galaxies with SÍGAME. We find strong potential for using the total [CII] luminosity to derive the ISM and molecular gas mass of galaxies during the Epoch of Reionization (EoR).
Subscribe to filtered calendar