Sep
9
Fri
Colloquium Thesis Proposal: Lauren Kahre
Sep 9 @ 3:15 pm – 4:15 pm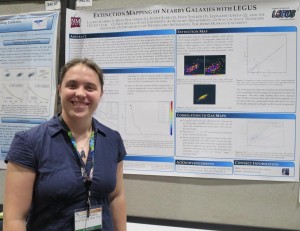 Extinction mapping with LEGUS
Lauren Kahre
The study of star formation and galaxy evolution in nearby galaxies depends on obtaining accurate stellar photometry in those galaxies. However, dust in the galaxies hinders our ability to obtain accurate stellar photometry, particularly in star-forming galaxies that have the highest concentrations of dust. This proposal presents a thesis project to develop a method for generating extragalactic extinction maps using photometry of massive stars from the Hubble Space Telescope. This photometry spans nearly 50 galaxies observed by the Legacy Extragalactic Ultraviolet Survey (LEGUS). The derived extinction maps can be used to correct other stars and Halpha maps (from the Halpha LEGUS) for extinction, and will be used to constrain changes in the dust-to-gas ratio across the galaxy sample and in different star formation rate, metallicity and morphological environments. Previous studies have found links between galaxy metallicty and the dust-to-gas mass ratio. The relationship between these two quantities can be used to constrain chemical evolution models.
Selected galaxies will also be compared to IR-derived dust maps for comparison to recent M31 results from Dalcanton et al. (2015) which found a minimum factor of 2 inconsistency between their extinction-derived maps and emission-derived maps from Draine et al. (2014).
Nov
18
Fri
Colloquium: Karen Olsen
Nov 18 @ 3:15 pm – 4:15 pm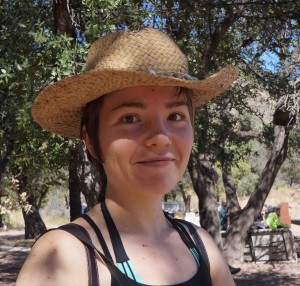 Simulations of the interstellar medium at high redshift: What does [CII] trace?
Dr. Karen Olsen, Arizona State University
We are in an exciting era were simulations on large, cosmological scales meet modeling of the interstellar medium (ISM) on sub-parsec scales. This gives us a way to predict and interpret observations of the ISM, and in particular the star-forming gas, in high-redshift galaxies, useful for ongoing and future ALMA/VLA projects.
In this talk, I will walk you though the current state of simulations targeting the the fine structure line of [CII] at 158 microns, which has now been observed in several z>6 galaxies. [CII] can arise throughout the interstellar medium (ISM), but the brightness of the [CII] line depends strongly on local environment within a galaxy, meaning that the ISM phase dominating the [CII] emission can depend on galaxy type. This complicates the use of [CII] as a tracer of either SFR or ISM mass and calls for detailed modeling following the different ways in which [CII] can be excited.
I will present SÍGAME (Simulator of GAlaxy Millimeter/submillimeter emission) – a novel method for predicting the origin and strength of line emission from galaxies. Our method combines data from cosmological simulations with sub-grid physics that carefully calculates local radiation field strength, pressure, and ionizational/thermal balance. Preliminary results will be shown from recent modeling of [CII] emission from z~6 star-forming galaxies with SÍGAME. We find strong potential for using the total [CII] luminosity to derive the ISM and molecular gas mass of galaxies during the Epoch of Reionization (EoR).
Subscribe to filtered calendar