Oct
9
Fri
Colloquium: Ben Weiner
Oct 9 @ 3:15 pm – 4:15 pm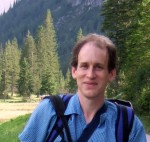 Searching for Dwarf Satellites around Milky Way – Analog Galaxies with the SAGA survey
Ben Weiner, Steward Observatory
Dwarf satellites of massive galaxies are a probe of many issues in galaxy evolution and cosmology, including the nature of low-mass galaxies, star formation at early times, accretion into halos, and the abundance of low-mass dark matter halos. Much attention has been devoted to the number and nature of Milky Way and M31 dwarf satellites, especially the "missing satellites problem." However, we know very little about dwarf satellites outside the Local Group below the mass of the LMC, and we don't know if the MW and M31 satellite systems are typical. The SAGA (Satellites Around Galactic Analogs) survey collaboration aims to address this with both observational and theoretical studies of satellite abundances and properties around Milky Way analog central galaxies. I will present results from our MMT/Hectospec wide field spectroscopic surveys for satellites. We have surveyed the fields of several nearby galaxies that are similar to the Milky Way to detect and spectroscopically confirm dwarf satellites.  We find a range of numbers of satellites, suggesting that there is a significant variance in halo histories.  We also find that not all dwarf systems resemble the Milky Way and M31 systems. I will discuss these results and some of the implications on the life cycle of satellites that we can infer from satellite abundances and properties, including their images and spectra.
Sep
9
Fri
Colloquium Thesis Proposal: Lauren Kahre
Sep 9 @ 3:15 pm – 4:15 pm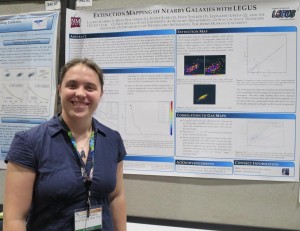 Extinction mapping with LEGUS
Lauren Kahre
The study of star formation and galaxy evolution in nearby galaxies depends on obtaining accurate stellar photometry in those galaxies. However, dust in the galaxies hinders our ability to obtain accurate stellar photometry, particularly in star-forming galaxies that have the highest concentrations of dust. This proposal presents a thesis project to develop a method for generating extragalactic extinction maps using photometry of massive stars from the Hubble Space Telescope. This photometry spans nearly 50 galaxies observed by the Legacy Extragalactic Ultraviolet Survey (LEGUS). The derived extinction maps can be used to correct other stars and Halpha maps (from the Halpha LEGUS) for extinction, and will be used to constrain changes in the dust-to-gas ratio across the galaxy sample and in different star formation rate, metallicity and morphological environments. Previous studies have found links between galaxy metallicty and the dust-to-gas mass ratio. The relationship between these two quantities can be used to constrain chemical evolution models.
Selected galaxies will also be compared to IR-derived dust maps for comparison to recent M31 results from Dalcanton et al. (2015) which found a minimum factor of 2 inconsistency between their extinction-derived maps and emission-derived maps from Draine et al. (2014).
Subscribe to filtered calendar