Oct
28
Fri
Colloquium: Mark Wardle
Oct 28 @ 3:15 pm – 4:15 pm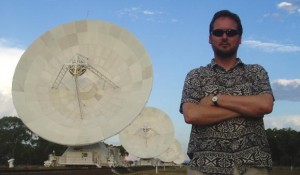 Star formation in the vicinity of the supermassive black hole at the Galactic Centre
Dr. Mark Wardle, Macquarie University
The disruptive tidal field near supermassive black holes overcomes the self-gravity of objects that are less dense than the Roche density.  This was once expected to suppress star formation within several parsecs of  Sgr A*, the four million solar mass black hole at the centre of the Galaxy.   It has since become apparent that things are not this simple:  Sgr A* is surrounded by a sub-parsec-scale orbiting disk of massive stars, indicating a star formation event occurred a few million years ago.    And on parsec scales,  star formation seems to be happening now:  there are proplyd candidates and protostellar outflow candidates,  as well as methanol and water masers that in the galactic disk would be regarded as sure-fire signatures of star formation.  In this talk, I shall consider how star formation can occur so close to Sgr A*.
The stellar disk may be created through the partial capture of a molecular cloud as it swept through the inner few parsecs of the galaxy and temporarily engulfed Sgr A*.  This rather naturally creates a disk of gas with the steep surface density profile of the present stellar disk.  The inner 0.04 pc  is so optically thick that it cannot fragment, instead accreting onto Sgr A* in a few million years; meanwhile the outer disk fragments and creates the observed stellar disk.   The isolated young stellar objects found at larger distances, on the other hand,  can be explained by stabilisation of clouds or cloud cores by the high external pressure that permeates the inner Galaxy.   A virial analysis shows that clouds are indeed tidally disrupted within 0.5 pc of Sgr A*, but outside this the external pressure allows self-gravitating clouds to survive, providing the raw material for ongoing star formation.
Sep
1
Fri
Colloquium: Isak Wold (Host: Moire Prescott)
Sep 1 @ 3:15 pm – 4:15 pm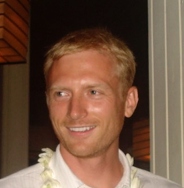 A Faint Flux-Limited LAE Sample at z = 0.3
Isak Wold, UT Austin
Observational surveys of Lya emitters (LAEs) have proven to be an efficient method to identify and study large numbers of galaxies over a wide redshift range. To understand what types of galaxies are selected in LAE surveys – and how this evolves with redshift – it is important to establish a low-redshift reference sample that can be directly compared to high-redshift samples.  The lowest redshift where a direct Lya survey is currently possible is at a redshift of z~0.3 via the Galaxy Evolution Explorer (GALEX ) FUV grism data. Using the z~0.3 GALEX sample as an anchor point, it has been suggested that at low redshifts high equivalent width (EW) LAEs become less prevalent and that the amount of escaping Lya emission declines rapidly.  A number of explanations for these trends have been suggested including increasing dust content, increasing neutral column density, and/or increasing metallicity of star-forming galaxies at lower redshifts. However, the published z~0.3 GALEX sample is pre-selected from bright NUV objects.  Thus, objects with strong Lya emission but faint continuum (high-EW LAEs) could be missed.  In this talk, I will present my efforts to re-reduce the deepest archival GALEX FUV grism data and obtain a sample that is not biased against high-EW LAEs.  I will discuss the implications of this new sample on the evolutionary trends listed above.
Subscribe to filtered calendar