Oct
28
Fri
Colloquium: Mark Wardle
Oct 28 @ 3:15 pm – 4:15 pm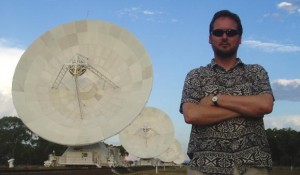 Star formation in the vicinity of the supermassive black hole at the Galactic Centre
Dr. Mark Wardle, Macquarie University
The disruptive tidal field near supermassive black holes overcomes the self-gravity of objects that are less dense than the Roche density.  This was once expected to suppress star formation within several parsecs of  Sgr A*, the four million solar mass black hole at the centre of the Galaxy.   It has since become apparent that things are not this simple:  Sgr A* is surrounded by a sub-parsec-scale orbiting disk of massive stars, indicating a star formation event occurred a few million years ago.    And on parsec scales,  star formation seems to be happening now:  there are proplyd candidates and protostellar outflow candidates,  as well as methanol and water masers that in the galactic disk would be regarded as sure-fire signatures of star formation.  In this talk, I shall consider how star formation can occur so close to Sgr A*.
The stellar disk may be created through the partial capture of a molecular cloud as it swept through the inner few parsecs of the galaxy and temporarily engulfed Sgr A*.  This rather naturally creates a disk of gas with the steep surface density profile of the present stellar disk.  The inner 0.04 pc  is so optically thick that it cannot fragment, instead accreting onto Sgr A* in a few million years; meanwhile the outer disk fragments and creates the observed stellar disk.   The isolated young stellar objects found at larger distances, on the other hand,  can be explained by stabilisation of clouds or cloud cores by the high external pressure that permeates the inner Galaxy.   A virial analysis shows that clouds are indeed tidally disrupted within 0.5 pc of Sgr A*, but outside this the external pressure allows self-gravitating clouds to survive, providing the raw material for ongoing star formation.
Mar
28
Tue
Joint Physics/Astronomy Colloquium: William Newman
Mar 28 @ 4:00 pm – 5:00 pm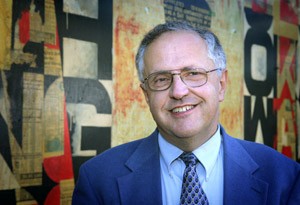 Giant Planet Shielding of the Inner Solar System Revisited: Blending Celestial Mechanics with Advanced Computation
Dr. William Newman, UCLA
The Earth has sustained during the last billion years as many as five catastrophic collisions with asteroids and comets which led to widespread species extinctions. Our own atmosphere was literally blown away 4.5 billion years ago by a collision with a Mars-sized impactor. However, collisions with comets originating in the outer solar system accreted much of the present-day atmosphere. Relatively advanced life on our planet is the beneficiary of a number of impact events during Earth's history which built our atmosphere without destroying a large fraction of terrestrial life. Using very high precision Monte Carlo integration methods to explore the orbital evolution over hundreds of millions of years followed by the application of celestial mechanical techniques, the presentation will explain directly how Earth was shielded by the combined influence of Jupiter and Saturn, assuring that only 1 in 100,000 potential collisions with the Earth will materialize.
Subscribe to filtered calendar