Mar
5
Tue
Public Talk: Janna Levin: Black Hole Blues
Mar 5 @ 7:30 pm – 8:45 pm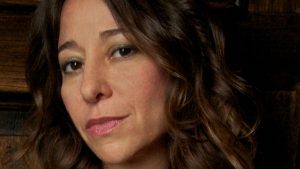 Dr. Janna Levin
Barnard College
Info here: https://honors.nmsu.edu/news/events/speakers-series/
Sep
6
Fri
Colloquium: Brian Svoboda (Host: Moire Prescott)
Sep 6 @ 3:15 pm – 4:15 pm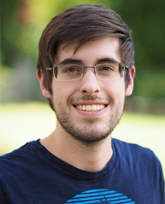 Starless clumps and the earliest phases of high-mass star formation in the Milky Way
Brian Svoboda, NRAO Jansky Fellow
High-mass stars are key to regulating the interstellar medium, star formation activity, and overall evolution of galaxies, but their formation remains an open problem in astrophysics. In order to understand the physical conditions during the earliest phases of high-mass star formation, I will present observational studies we have carried out on dense starless clump candidates (SCCs) that show no signatures of star formation activity. We identify 2223 SCCs from the 1.1 mm Bolocam Galactic Plane Survey, systematically analyse their physical properties, and show that the starless phase is not represented by a single timescale, but evolves more rapidly with increasing clump mass. To investigate the sub-structure in SCCs at high spatial resolution, we investigate the 12 most high-mass SCCs within 5 kpc using ALMA. We find previously undetected low-luminosity protostars in 11 out of 12 SCCs, fragmentation equal to the thermal Jeans length of the clump, and no starless cores exceeding 30 solar masses. While uncertainties remain concerning the star formation efficiency in this sample, these observational facts are consistent with models where high-mass stars form from initially low- to intermediate-mass protostars that accrete most of their mass from the surrounding clump. I will also present on-going research studying gas inflow signatures with GBT/Argus and ALMA, and the dense core mass function with the JVLA.
(note:slide overlay error)

May
29
Fri
Remote Colloquium Thesis Defense: Drew Chojnowski
May 29 @ 2:30 pm – 3:30 pm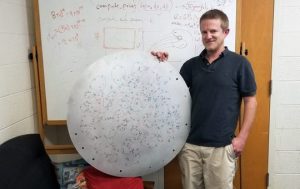 H-Band Spectroscopy of Exotic, Massive Stars
Drew Chojnowski, NMSU
We report on spectroscopy of exotic B-type emission line (Be) stars and chemically peculiar (CP) stars in the near-infrared (NIR) H-band, using data provided by the Apache Point Observatory Galactic Evolution Experiment, one of the sub-surveys of the Sloan Digital Sky Survey (SDSS). Between 2011-2020, SDSS/APOGEE has observed more than a million stars in the Milky Way Galaxy (MW), with roughly 10% of the targets being hot, blue stars that serve as telluric absorption standard stars (TSS). The TSS are selected mostly on the basis of having blue raw J-K color indices with no preference for any particular spectral type that might be known from optical spectroscopy. This targeting strategy has led to the TSS being a mixed bag, with those observed in the MW Halo typically being F-type stars that are only slightly more massive than the Sun, and with those observed in the MW Disk and Bulge being OBA-type stars of a few up to 20 times the mass of the Sun. While the vast majority of the TSS are superficially normal main sequence stars, the inclusion of large numbers of Be and CP stars has serendipitously resulted in the largest ever homogeneous spectroscopic surveys of these stellar classes, both of which present observational anomalies that remain very poorly understand despite more than a hundred years of research. Prior to SDSS/APOGEE, the H-band spectra of Be and CP stars had only been discussed in a handful of studies, all of which used small numbers of spectra of considerably lower resolution than the R=22,500 of the APOGEE instruments. The material presented in this thesis therefore represents the first ever detailed studies of Be and CP stars in the H-band, while also greatly expanding the known samples through discovery of many hundreds of new examples.
Subscribe to filtered calendar